Any time you want to sell gold jewelry, coins, or even scrap gold, we'll buy your gold from you. We recycle a wide variety of items from engagement rings to gold grills, EVERY PIECE COUNTS.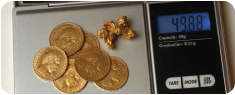 The market price of gold is measured in troy ounces. When we buy your gold from you we do it based on a unit of measurement called grams. We price your gold, silver and platinum by determining their purity and weight in DWT (Penny Weight) or Grams. We'll give you a price based on the current world market.
Here are a few important things our experts would like you to remember about jewelry recycling:
The prices we pay do not reflect retail prices. They reflect the price of the gold in the items.
We pay by weight, the more the valuable content of your items weighs, the more we pay.
Our payments go up if your items contain 10 ounces or more of gold.
We want your 24k, 18k, 14k, 10K GOLD, 925, Sterling, .999 pure silver, .900 silver coins, sterling jewelry, sterling serving & flatware, sterling decorative Items. We pay the best price around.

10k, 12k, 14k, 18k, 22k, 24k gold
Sterling silver, platinum or gold necklaces and bracelets
Fine Jewelry
Gold wedding bands and engagement rings
Gold class rings, cluster rings, cocktail rings
Silver, platinum and gold watches
Gold coins and medals
Silver, platinum and gold brooches and pins
Gold statues
Scrap dental gold
Silver, platinum and gold lockets and charms
Scrap / damaged jewelry, broken chains and items missing stones
Earrings matched or unmatched gold, silver or platinum

We buy vintage, antique and estate jewelry, gold, coins, diamonds, silver, platinum and much more. Many people who thought their items were worthless have been pleasantly surprised when we paid them hundreds, sometimes thousands, of dollars!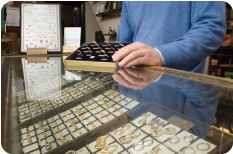 At Arizona EZ-Pawn we have diamonds for every person's taste and budget. With an experienced and helpful staff, we offer the highest level of professional and courteous service to make each transaction one you will remember. We also have incredible deals on new and previously owned jewelry, diamonds as well as high-end brand watches. We price our jewelry so affordably we know you'll be amazed. Our quality, selection and prices are some of the best-kept secrets in town.
Don't leave anything behind, check your attic and safe deposit boxes, anywhere you may have a hidden treasure lurking that we can turn into CASH. If you are in doubt of value, don't hesitate, let the professionals at Arizona EZ-Pawn take a look.

Rings
Bracelets
Cufflinks
Earrings
Necklaces
Pendants
Pins & Brooches
Antique Jewelry
Vintage Jewelry
Estate Jewelry
Designer Jewelry